Mann Filter
MANN+HUMMEL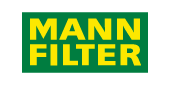 Our language: filtration!
"Our vision: 'Leadership in Filtration'. Filtration separates the useful from the harmful ? something we are committed to working on every day."
(Alfred Weber, CEO)
Welcome to MANN+HUMMEL
More than 75 years of experience in the area of filtration ? in the course of its history MANN+HUMMEL started as a small factory producing filters and grew to become a company group with global operations. Today we are proud to be a leading global filtration specialist. We develop solutions for motor cars and industrial applications and enable clean air in interior spaces and the sustainable use of water.
In figures MANN+HUMMEL stands for:
More than 20,000 employees at over 80 locations with over 1,000 R&D specialists, more than 3,000 patents and a turnover of 3.5 billion euros
We produce 24 filter elements every second. Just at the Marklkofen plant ? the largest filter factory in the world ? we produce more than 170 million filters.
But still we are not satisfied. Innovation is normal for us. We develop and produce cutting edge technology for the health and mobility of people. Our product range includes air cleaners, intake manifold systems, liquid filter systems, technical plastic components, filter media, cabin filters, industrial filters and membrane filters. We are constantly working on our vision of "Leadership in Filtration".
We invite you to get to know MANN+HUMMEL ? our company, our business areas, our employees ? so that you too can immerse yourself in the exciting world of filtration which is our daily work. For more than 75 years. And in future.
---
Gli altri marchi del gruppo
---
Contattaci!
Scrivici per qualsiasi richiesta, dubbio, chiarimento.
Per informazioni tecniche sui corsi, gestionali, assistenza, attrezzatura, attivazioni servizi e per risposte su dati tecnici mancanti assistenza@aditalia.tech