Monroe
Monroe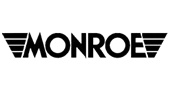 Monroe® Shocks and Struts, one of the most respected brands in the automotive and commercial vehicle industries, is celebrating its 100th Anniversary in 2016 with an extensive schedule of programs, promotions and other special activities designed to support the thousands of parts and service providers and millions of consumers worldwide who rely on Monroe products. Monroe shock absorbers, struts and other products are manufactured by Tenneco.

Founded in 1916 in Monroe, Mich., by mechanic and entrepreneur August F. Meyer, the business that eventually became Monroe Auto Equipment Company initially manufactured tire pumps for the owners of early automobiles. Meyer soon added a partner, local Dodge motorcar dealer Charles S. McIntyre, whose industry knowledge helped cultivate demand for the company?s self-oiled, single-barreled pumps. By 1926, Meyer and McIntyre had turned their attention to a larger opportunity ? the demand for increased driver comfort and control. Later that year they introduced the first Monroe ?Shock Eliminator,? which soon replaced the unwieldy carriage springs on many passenger vehicles. Nine decades and millions of customers later, the Monroe brand has become a globally recognized standard of innovation and product excellence within the ride control category.

?Monroe is one of a handful of brands of vehicle components that have been able to remain relevant throughout the past century by being leading innovators within their product categories,? said Corey Bartlett, president and CEO, Automotive Parts Headquarters, Inc. ?Our customers, who are leading local vehicle service providers, confidently recommend Monroe shock absorbers and struts for their customers? vehicles. We have been proud to partner with Monroe and their excellent team for many decades and look forward to many more decades of working together.?

Monroe Auto Equipment expanded to Europe in 1964; Japan, Australia and Mexico in 1972; South America in 1974; and Canada in 1975. Tenneco, which purchased the company in 1977, has overseen the development of several Monroe innovations for passenger vehicles, trucks, buses and other applications. The company introduced the automotive service industry?s first gas-charged replacement shock absorbers, Monroe Gas-Matic? shocks, in 1982; Monroe Reflex® shocks and struts in 1999; Monroe Quick-Strut® complete replacement strut assemblies in 2003; and Monroe OESpectrum® shocks and struts in 2011.


In addition to its strong presence in the global aftermarket, Tenneco is one of the world?s largest manufacturers of original equipment ride control and suspension systems and components. Tenneco?s revolutionary Monroe Intelligent Suspension electronic technologies offer vehicle manufacturers a wide range of options to tune suspension systems to very specific requirements and provide a higher level of safety and comfort for drivers.

Beyond advanced technologies and best-in-class product performance, a core element of the Monroe brand?s enduring success has been a uniquely strong connection with the professionals who specify, sell and install its products. ?Every Monroe breakthrough for the aftermarket has been supported by dedicated channel partners and skilled vehicle service professionals who have embraced the responsibility to provide motorists with a controlled ride,? said Joe Pomaranski, senior vice president and general manager, Global Aftermarket, Tenneco. ?That?s the ultimate goal of every Monroe product ? a goal that requires strong partnerships across our industry.?

With the theme ?Made for the Road Ahead,? the brand?s 100th anniversary celebration will focus as much on the Monroe brand?s future as it does on its past, according to Jeff Koviak, vice president and general manager, North America Aftermarket, Tenneco. ?It?s part of our corporate culture to always look for the next opportunity to enhance vehicle stability and performance. That?s how our founders helped create the ride control category in the early 1900s and it will be key to our next century of success.?
---
Gli altri marchi del gruppo
---
Contattaci!
Scrivici per qualsiasi richiesta, dubbio, chiarimento.
Per informazioni tecniche sui corsi, gestionali, assistenza, attrezzatura, attivazioni servizi e per risposte su dati tecnici mancanti assistenza@aditalia.tech